GlassHouse Systems' Infrastructure Series presents:
Red

Hot

from Red Hat: Connect Summit Roundup

November 29th, 1:00 pm - 1:30 pm EST | Virtual Zoom Event.
Join GlassHouse Systems for an exclusive session recapping Red Hat's latest Connect Summit. If you missed the event or couldn't find the days to attend, then this high-value, insights-packed, condensed session is for you.
We are proud to be hosting the session with Red Hat's Chief Technology Strategist, Michael Cardy, where we discuss the Summit's highlights, how developers and engineers leverage the latest open-source innovations and the power of the community in solving IT challenges.
Why attend this session?
Save valuable research time and get up-to-date coverage on the latest Red Hat innovations.

Discover new services and workflows that streamline and scale production and integrate with the tools you already use.

Learn from experts what challenges the new solutions solve, how they apply to your team, and how to get started.
Building the future of your organization's IT means keeping current on the ever-evolving landscape of technology. Yet, staying up to date consumes time that busy professionals don't have. This roundup session promises to do just that: save you time to get up to speed.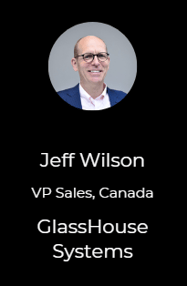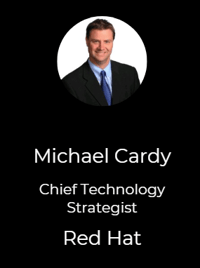 About GlassHouse Systems
For more than 30 years, GlassHouse Systems (GHS) has been delivering transformative digital and security technologies that power the most innovative companies. Our teams address the entire breadth of business needs, from strategy and design to managing secure operations on-premises and in the cloud.To do this, we draw on our deep in-house expertise and strategic partnerships and deliver creative technical deployments that help chart new strategies for our clients' growing digital resiliency needs.
With IBM and GlassHouse Systems, you get the best technology managed by the best minds
30 YEARS OF EXCELLENCE
For more than 30 years, GlassHouse Systems (GHS) has been helping technology teams deliver transformative digital and security solutions that power the most innovative companies.
We advise, deploy, and manage across all aspects of enterprise IT - network, compute, storage, backup and recovery, and security - to drive impactful business outcomes.
EVER-READY INFRASTRUCTURE
We align, orchestrate and manage your digital assets to create an optimal and flexible IT infrastructure across hybrid and multi-cloud environments.
We match IT with your operational goals so you can create lasting value and power your business forward.
IBM PLATINUM PARTNER
GlassHouse Systems is IBM's top partner in Canada and is ranked as a leading IBM North American partner.
Our vast experience delivering advanced IBM solutions to North America's leading companies translates to an expert, cost-effective, and professional delivery of each and every engagement we do.